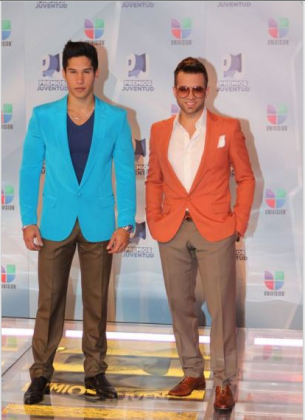 Miami, FL – Latin music duo, Chino y Nacho are no strangers to both praise and criticism when it comes to red-carpet fashion, but it seems as though their style evolution has come full circle after being voted by viewers as the "Best Dressed Pair" on the blue carpet at this year's Premios Juventud awards.
Stepping out in custom-tailored sport coats by designer, Rosita Hurtado, the duo turned heads with the vibrant summer colors which are all the rave this season. Chino donned a bright ocean-blue blazer over a navy blue shirt, complimented by golden-brown trousers. Nacho, looking as dapper as ever with a burnt orange sport coat custom-fit to perfection, over a button-down white shirt, and khaki colored trousers.
The chart-topping duo were all the buzz throughout the night with a mind-blowing performance of their hit Bebe Bonita, as well as lending their talents as co-hosts for the show. Following the live broadcast, viewers took to PremiosJuventud.com to vote on their favorite fashion of the night. Chino y Nacho were announced yesterday as the carpet's best dressed pair of the evening.