Although the game is on at an awkward time; a Tuesday at 4pm days before the Fourth of July, it's still a good excuse for a little watching party. Here are a few tips for the important game on July 1st, 2014 on ESPN and Univision.
Drinks:
You can't have a party without drinks. Beer and coke is always a minimum must have but, here are some creative drinks that have a little summer in the USA flavor to them.
Cherry Lime Mojito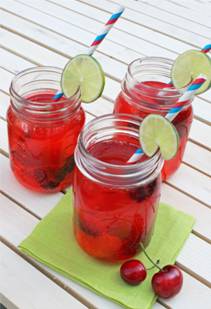 Ingredients:
4 oz. Cherry Limeade Sparkling ICE
1.5 oz. White Rum
10 Mint leaves (plus a few more for garnish)
6 Cherries (stems and pits removed)
Lime slices for garnish
Directions:
In a large, sturdy glass, muddle together the mint and cherries until lightly-smashed
Stir in the rum and then top with Cherry Limeade Sparkling ICE over ice. Stir gently to mix.
Garnish with fresh cherries, mint leaves, and lime slices.
Strawberry Basil Lemonade (Trust me it's good)
Ingredients:
1 cup strawberries, destemmed and hulled
1 cup (8 ounces) fresh squeezed juice (I used 4 very large lemons)
1/2 cup simple syrup (or sugar to your liking)
3 cups cold water
1 lemon, washed and sliced into 1/4-inch slices
1 cup loosely packed basil leaves
Directions:
Purée the strawberries with about 1/4 cup of the lemon juice in a blender on high speed until smooth, about 1 minute. Strain the purée through a fine mesh strainer into a pitcher.
Add the rest of your lemon juice, the simple syrup, water, lemon slices and basil leaves. Stir to incorporate. Chill for at least one hour before serving.
Tip: DON'T crush the basil leaves, it may overpower the drink.
Food:
The game is what people come for but, the food is what people stay for. The game will be in the mid-afternoon so you can either make a lot of appetizers and snacks, a nice dinner for post-game or a little of both. Burgers are must for a good ol' 'Murican foods and Mussels are a must (if you're not allergic) for the Belgian side of things. Belgium consumes so many Mussels that an average of 3 kilograms of them are consumed per person per year!
Classic Cheeseburger: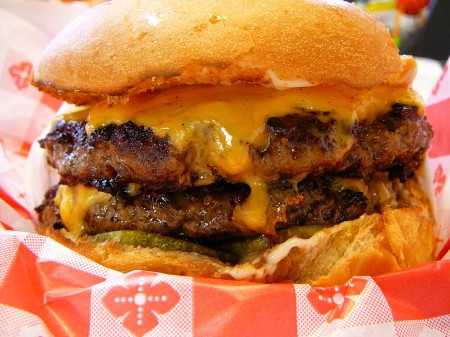 Ingredients (Serves 6)
2 pounds freshly ground chuck, (80/20 or 90/10 for health freaks)
1 tablespoon onion powder
1 teaspoon salt
1 teaspoon freshly ground black pepper
12 slices deli-counter American cheese
6 large burger buns, toasted if desired
Directions:
In a large bowl, mix ground beef, onion powder, salt and pepper until just combined. Do not overmix, or your patties will be tough.
Divide into six portions and form patties, without pressing too hard. They should be uniform in thickness. Smooth out any cracks using your fingers. Make these right before you grill them, so they stay at room temperature.
Preheat your grill, grill pan or cast-iron skillet to high heat and add burger patties. If using a grill, cover with the lid.
Cook until the crust that forms on the bottom of the burger releases it from the pan or grate — about 2 minutes. Gently test, but don't flip it until it gets to this point. When burgers lift up easily, flip, add two slices of cheese to each, close lid if using a grill, and cook on the other side for another 2-3 minutes for medium to medium rare.
Remove burgers with a sturdy metal spatula and transfer to a plate. Allow to rest for several minutes, then transfer to buns.
Garnish as desired and serve immediately.
Belgian Mussels w/ Steak Fries: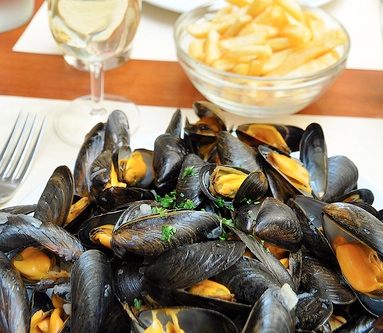 Ingredients:
1kg fresh mussels (or Frozen if fresh isn't available)
3 large spring onions
1 large shallot, peeled and halved
1 carrot, peeled and halved lengthways
2 fat garlic cloves, peeled
1 fresh red chilli
1 bunch thyme
handful flat-leaf parsley
100ml olive oil
about 150ml dry white wine (ideally Muscadet)
1 tsp Pernod
2 tbsp crème fraîche
Directions:
Tip the mussels into a large bowl of cold water. Discard any that remain open when tapped, then drain well and pull away any 'beards'. (Fresh mussels look black and shiny and should only smell pleasantly of the deep sea – the vast majority should be tightly closed. Avoid any that smell 'fishy', look dry or are mostly open.)
Thinly slice the vegetables and garlic. Roll the chili in your hands to loosen the seeds, then slit in half and shake out the seeds. Slice the flesh into thin sticks, then stack together and finely chop. Pick over the thyme sprigs, discarding the thick stalks, and pick the parsley leaves from the stalks. Prepare the chips (see recipe, below right).
Place a large, heavy-based sauté pan (with a lid) on the hob and heat until you can feel a strong heat rising. Pour in the oil, then immediately toss in all of the vegetables, chilli and thyme. The thyme sprigs will crackle if the pan is hot enough. Cook for about 1½ mins, shaking the pan and stirring the vegetables until they start to wilt.
With the heat still on high, toss in all the mussels and shake the pan so they form an even layer. Cover with a lid and cook for another 1-2 mins, shaking the pan once or twice.
Uncover the pan and pour in the wine and Pernod. Shake and cook for another 1½ mins so the wine reduces by half, then cover again and cook for another min. Place a large colander over a bowl and tip the mussels and vegetables into the centre. Discard any mussels that remain closed. Fry the chips or buy them premade from your local grocery store.
Pour the strained liquid back in the pan, reheat and stir in the crème fraîche and whole parsley leaves. Check the seasoning; you may not need any salt. Return the mussels and vegetables to the pan and reheat, shaking the pan, then divide between two large soup bowls. Serve the chips and mayonnaise (recipe below) alongside.
TIP: Make the mayo and prepare the chips before you start the mussels. Fry the chips after you have cooked the mussels and while they are still draining in the colander, then finish the sauce.
Music:
Personally, I'd recommend playing some of our podcasts are your party but, here are some specific tracks you can add to your party playlists.
1. Coone (from Belgium) ft. Wildestyles – This is Home

2. Gregor Salto – Samba Do Mundo Feat. Saxsymbol And Todorov (World Cup Edit)
3. Diplo's World Cup Mix
4. Corillo Commute 🙂