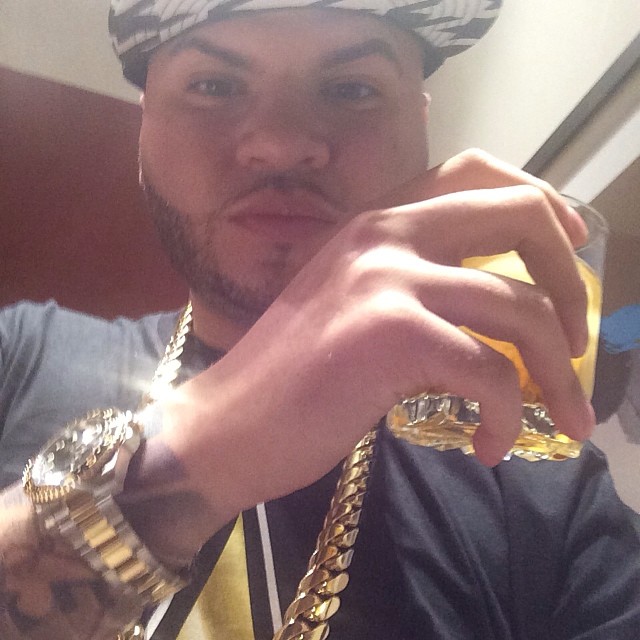 As many Reggaeton fans already know, Farruko has recently found himself in an awkward situation. The Puerto Rican 'Reggaetonero' posted a picture of his Rolex on Instagram and was quickly pointed out as a fake by FakeWatchBusters, a 'watch watchdog' Instagram account. Following the accusations, Farruko as well as other artists like Ñengo Flow and Ñejo, began to backlash at 'haters' by posting pictures of their Rolexes and posting videos poking fun at the situation. Although, at the end of it all, the watch was fake and Farruko was essentially forced to buy a $13,000 USD Rolex in Miami the issue here isn't necessarily counterfeit merchandise but, the lack of professionalism in the Reggaeton genre.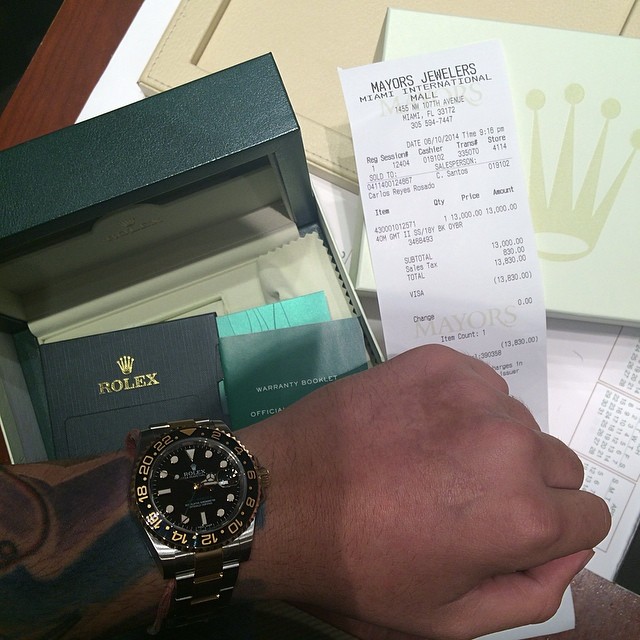 Image: Farruko's $13,000 USD Rolex
A popular talented artist like Farruko, who has made tracks with countless big name artists like Jose Feliciano and most recently Sean Paul, should not find himself in a social media 'fight' (or whatever you wish to call it) with a guy who runs a luxury watch humiliation / watchdog account. Reggaeton artists tend to come out of harsh neighborhoods where a lot of what they talk about comes from; drugs, weapons, etc. so, defending one's street cred or social standing is normal. But, Reggaetoneros find themselves in positions of great influence with large fan bases throughout Latin America, Europe, Canada and the United States which tends to make them a good amount of money from shows, album sales and occasionally product endorsements. Put these two facts together and you get a bad mix, at least from a commercial standpoint.
Farruko, although he is a young artist, he is rising among the ranks in Reggaeton, rising to the caliber of big names like Daddy Yankee and Don Omar, which has allowed him to sell-out shows and create successful productions. With fame and money, comes the need for responsibility and especially, professionalism, which sadly a large majority of Reggaeton lacks. Professionalism isn't just following through on contracts or doing press stops but, carrying yourself in a respectful manner in any situation. Reggaeton has grown into a vibrant and growing genre that has made a lot money with large markets in Colombia, Mexico and the United States. The time has come for the genre to start making professionalism a priority; if you're making hundreds of thousands of dollars it is time to behave like you are. The use of adequate and effective management and public relations is a must in the genre. Situations like the one Farruko found himself in shouldn't of never happened. Management or PR should of been contacted to clean up or it could of simply been ignored. Luckily, the situation wasn't too much of a public relations disaster but, if something worse were to come up in the future it could compromise endorsements and future opportunities for Reggaetoneros to grow and make money. This issue, like counterfeit merchandise, won't be fixed overnight but, it should evaluated by record labels, independent artists and their management from the top down since artists aren't the only problem.