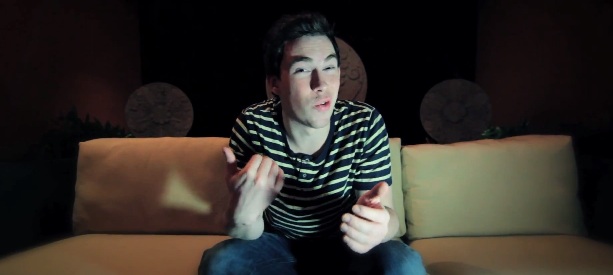 Washington DC - The 24-year-old Dutch superstar DJ/producer Hardwell is releasing his second episode of his new Q&A series. In this episode Hardwell personally answers the questions that fans asked on his Facebook and Twitter regarding His Life on Tour. Some of questions fans asked are, "What's the listened to song on your iPod? While touring how do you get ready for a gig? What is your favorite food? Do You perform based on the crowds reaction?" and more. Hardwell gives his fans access into his life and career by truthfully answering questions and showing exclusive footage of his life on tour. The video's production quality is as professional and top-notch as it gets and takes fans on a ride through Hardwell's life traveling, backstage, and performing.
Every episode will have a specific subject that focuses on Hardwell and fans can ask anything that relates to that subject. Next episode, #2 will be about Hardwell's studio. Fans can still submit questions via Twitter by tweeting their questions @Hardwell and adding the hashtag #HardwellQ&A, or simply asking a question on his Facebook wall at the special Q&A tab http://www.facebook.com/djhardwell/app_440008416019342
Q&A episodes are hosted on Hardwell's YouTube where he will answer the questions. When fans' questions are chosen, their name will be included in his video. The episodes will feature a lot of great content and exclusive footage. Hardwell's next episode is all about his studio, so fans can ask him anything they want to know about his productions, equipment, techniques, etc. Check out Hardwell's announcement video here: http://bit.ly/MO3snU.
Hardwell is extremely excited about this as it will not only allow fans to learn much more about him, but will allow them to interact directly with him on a regular basis. Hardwell aims to enhance the connection between his followers and himself by offering fans direct access into his life, career, studio, and personality via his social media platforms.
In the words of Hardwell, "With the opportunities of social media today, it's super easy to be in direct contact with your fans, however it's impossible to respond to each and everyone through Twitter or Facebook. That's how I came up with this idea, to give my fans the opportunity to ask me their questions and to have the chance to answer them in a fun way! We recorded the first episode already and had so much fun, it gives a good view on my life with some fun elements included, so it will be entertaining as well a must-see series I say!"